Conference Check-in / Arriving at the bcc
Apr 11, 2023 by ORGANIZERS
Our guide for a flawless check-in for the conference.
Getting to the Venue
The bcc is at Alexanderplatz and very easy to get to. 'How to get to the bcc.'.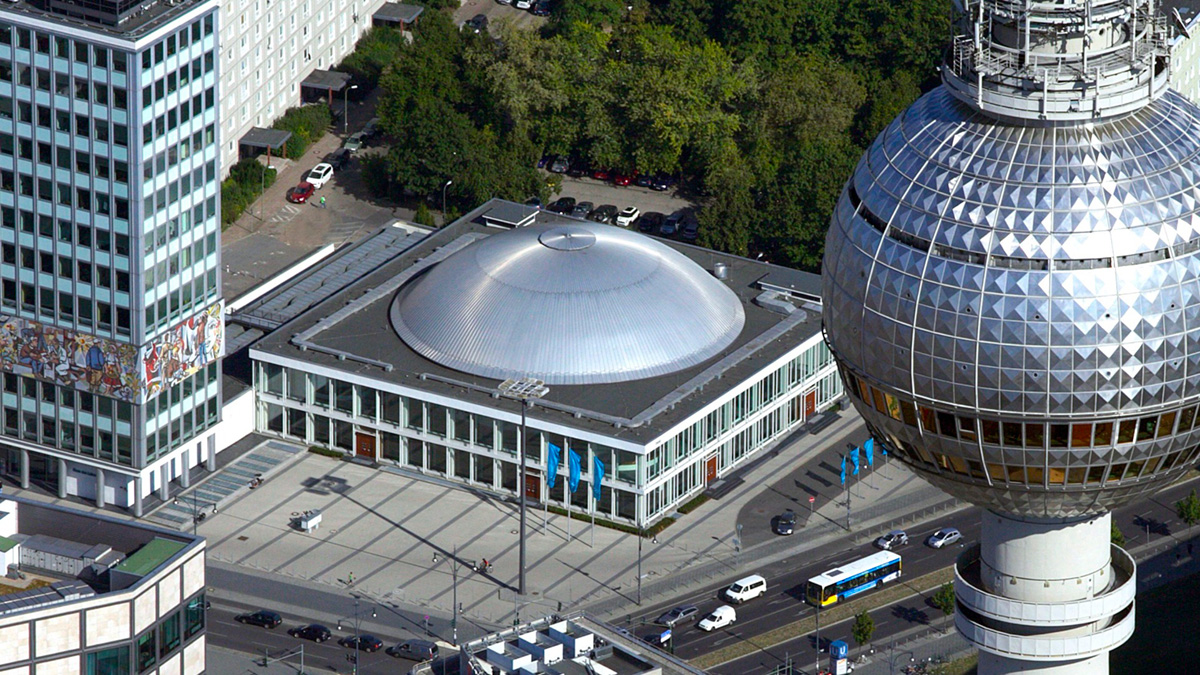 Check-In
The check-in entrance is on the left side under the mosaic. Once you have your badge, you will be able to use the front doors to enter and exit the bcc.
Following are the instructions on the check-in process, luggage, and cloakroom (below).
Early Check-In on Sunday
Most participants will arrive on Monday morning. To reduce queuing on Monday, we offer early badge collection on Sunday. If you are already in Berlin on Sunday, we recommend that you take advantage of the early check-in. It will significantly improve the check-in experience on Monday if more people took advantage of the early check-in 😉
tl;dr
15:00 - 18:00 early registration / badge pick-up at the venue for all attendees.
Badge pick-up
Proceed to the registration desk
Badges are ordered alphabetically by FIRST name. Please check the signs where to que up
There is only one collection point for all badges. There are no separate collection points for speakers or sponsors.
Please present your ID to pick up your badge, students please present your student ID
The registration desk is open:
Sunday 15:00-18:00
Monday 08:30-17:00
Tuesday 08:30-17:00
Wednesday 08:30-12:00
T-Shirt pick-up
If you have pre-ordered a T-Shirt with your ticket, please proceed to the T-Shirt pick up
The T-Shirt pick up is nearby the registration desk.
Opening Times
Sunday 15:00-18:00 open 🎉👕
Monday 08:30-12:00 CLOSED!
Monday 12:00-17:00 open 🎉👕
Tuesday 08:30-12:00 CLOSED!
Tuesday 12:00-17:00 open 🎉👕
Wednesday 08:30-12:00 open 🎉👕
Wednesday 12:00-17:00 CLOSED!
NO luggage inside the bcc, use the luggage station outside
Please note that due to tight security restrictions the conference venue, bcc, can only be accessed with a maximum of one piece of luggage with a capacity of less than 10 liter! NO luggage can be stored in the conference venue!
We therefore provide luggage storage outside the venue with a capacity of 200 pieces, where you can safely store your luggage (we are not making it free so that we avoid bots to book it automatically...). If required, you can make a reservation for luggage storage in advance on our ticket page. The luggage ticket will open on the following schedule:
Luggage ticket for Monday will open on April the 14th at 8:00
Luggage ticket for Tuesday will open on April the 14th at 8:00
Luggage ticket for Wednesday will open on April the 17th at 12:00
If there are no more rooms you can also checkout nearby locker like this one.
tl;dr
Please leave your luggage at your accommodation if possible
Please book a reservation for your luggage in advance, if it is not possible or too inconvenient for you to leave your accommodation.
In case you no longer require please cancel your reservation (open your ticket link, click view/edit. At the bottom right is a red cancel button )
Cloakroom
The cloakroom is across the registration desk inside the bcc. The cloakroom service is free of charge.
Seat Reservations for Tutorials
Seats in the tutorial rooms are limited. Please see our post on how to reserve your spot.
Social Gathering
The social gathering will be at the BCC on the 18th of April. We will announce more details during the opening session.